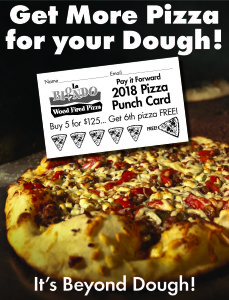 For you it may seem a long time until we are enjoying pizza under the old oak tree again, for me pizza season is an extension of the farming season and now is our planning and preparation time of year.
Weather permitting, Friday, April 20 we hope to fire up the oven and make our first pizzas of the season. Last November I spent some time in Sicily with a Pizzaiolo and learned a little I believe will make our pizza dough even better.
We have music lined up, a guest pizzaiolo or two AND a brand new menu item! Not telling… a little something else from Sicily. The suspense will be so deliciously worth it!
Now is the time to start planning your Pizza Fridays. Following my own lead with Pay it Forward Farm Bucks, here is your opportunity to enjoy a pizza on the house with a Pay it Forward Pizza Punch Card. Pay for 5 pizzas now and get your 6th pizza free!
You may send your check to the farm (address here) or drop it in the green steel money box at the farm stand.
We will keep the card here for your convenience. Your early support is most appreciated.
As an extra gift for your early support, when you purchase your Pizza Punch Card by Friday, February 16, you will be served 2 of our new desserts this summer.
This will be our 6th season of La Biondo Wood Fired Pizza and you ALL make it happen. You are the reason we look forward to making and serving the freshest, most local, most Vashon pizza.
In the beginning…
July 3, 2012 the trailer arrived all shiny and new…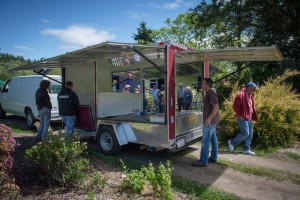 Loren thought it great fun to move the oven onto the trailer in the middle of the road…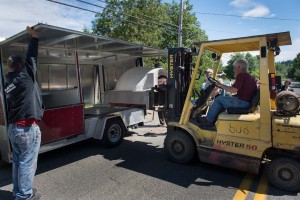 July 15, 2 weeks after delivery, Elaine and Nadine completed the amazing mosaic and we fired our first pizzas at Strawberry Festival. What a shake down!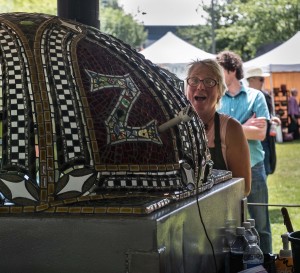 Beth, Jen, Mama Judy and I look forward to seeing you under the old oak tree this year!
THANK YOU for your support and appetites!