So many canned (or boxed) vegetable broths are too salty or there is too much celery or it's just too bland. This is lusciously full flavored and you will be very happy you took the time and made a really big pot so you can store some in the freezer.
This blend of ingredients is classically vegetarian, the the depth of flavor comes from 2 subtle but powerful ingredients and 1 worthy extra step: mushrooms, KOMBU and roasting your vegetables first. KOMBU is a dried seaweed that adds both Umami and salt. Mushrooms add a meaty flavor and a smooth mouth feel.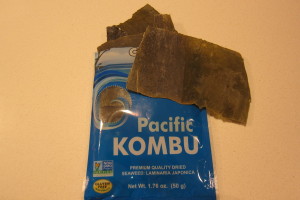 You can easily double or triple this recipe. And don't fret about these quantities, they are a guideline; if you have more or less of anything, it is just right.
1  pounds celery
1 1/2 pounds onions – with skins!
1 pound carrots ( I always suggest Plum Forest Farm carrots if you are on island
1/2 pound turnips
1 pound mushrooms (white or brown)
3-4 Tablespoons Extra Virgin Olive Oil
1 pound FRESH tomatoes, rough chopped OR 1 15 oz. can chopped tomatoes
1 cup lentils, any lentils you happen to have. (optional)
1/2 cup or so spinach (optional)
3 cloves garlic
3 whole cloves
2 bay leaves
6- 10 cracked peppercorns (smash with the back of a big spoon or knife and a linen towel)
1 hefty handful of fresh flat leaf parsley, loosely chopped, stens and leaves
1 gallon water
Preheat oven to 450 degrees
Cut celery, carrots and turnips into large pieces, maybe just in half. USE the butt of the celery and carrots! (root end). It's full of flavor. Scrub clean, cut in half lengthwise and rinse an extra time.
Cut onions in half lengthwise (pole to pole). Keep the skins on, they add the caramel coloring and flavor.
Wash mushrooms, rough chop, halves is just fine.
Toss celery, carrots, onions, turnips, fresh tomatoes, and mushrooms with olive oil. Place in roasting pan large enough to hold vegetables without stacking on top of each other. Roast in 450 oven, stirring occasionally until all the vegetables have browned and onions are starting to caramelize. Do not blacken the onions, they may carry a burnt taste into your broth.
This process may take about an hour.
Put browned vegetables in your big pot, ADD garlic, cloves, peppercorns, bay leaf, parsley, canned tomatoes, lentils and spinach (if you have), KOMBU and 1 gallon water.
Bring to full boil, reduce heat to simmer, reduce down to about half .
I promise, this is all worth it !
Pour the broth through fine strainer or cheesecloth into another pot.
Taste for salt.
Your broth is done.
Enjoy!
But wait, there is MORE!
The vegetables you cooked into your broth are delicious. Use them to make a breakfast scramble, or puree all the vegetables and add back into your broth for a thicker, even richer flavored broth.
Love the sound of all this, but it takes too long for you at the moment? You may skip roasting the vegetables and you will you have a very delicious vegetable broth.
One last note and a Nod: My French friend Christophe taught me years ago about tossing just about anything into the stock pot. It's where I learned to use celery butts, carrot butts, potato skins, winter squash skins. I swear he would toss in an old shoelace if it crossed his hand when he was making stock.